There are not many people in the world who can say there are Asian trombone players. In fact, there are so few that they can be counted on one hand. But while they may be in a small group, they have a big impact on the music community. They bring a unique sound and perspective to the table that helps create beautiful music.
Whether you are a beginner or an experienced player, these musicians will inspire you to reach new heights with your playing! These are not the only Asian trombone players, there are others but we want you to know about these ones listed here in this particular article.
1. Megumi Kanda
Megumi is a seasoned professional Japanese trombonist and performer who was born in Tokyo, Japan on November 9th, 1975. She began playing the trombone when she was ten years old.
She went to Toho High School of Music and took first place in a national competition in Japan. As soon as she graduated from high school, she  moved to the United States where she earned a The Cleveland Institute of Music awarded with a B.Mus. (with encomiums).Kanda is married to Dietrich Hemann and has three children with him.
Kanda is the principal trombonist of the Milwaukee Symphony Orchestra (MSO) in Milwaukee, Wisconsin, which she has held since 2002. She is said to have been chosen from a pool of 76 applicants, only six of whom were female. This demonstrates how talented she is.
Megumi has released three solo albums as a JVC/Victor Entertainment artist: Mona Lisa, Amazing Grace, and Gloria. She has also performed with other various JVC artists on a live recording at Tokoyo's opera city.
She has also taught master classes at a wide range of institutions, including the National Youth Orchestra, Interlochen Arts Academy and the New World Symphony.
Megumi's debut book, The One Hundred, is a collection of orchestral trombone selections with accompanying explications that was published in August 2015 and is a valuable resource for novice trombonists all around the world. Trombone Unlimited, her second book, is an omnibus approach guide. She is without a doubt one of the best trombonists of our generation.
2. Haruka Kikuchi: Queen of the Tailgate Trombone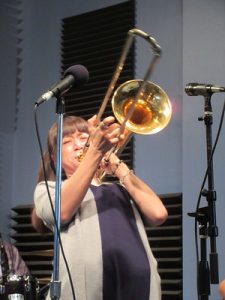 Haruka Kikuchi is a New Orleans transplant from Tokyo who has loved traditional jazz since she was a child and has always had a knack for music, listening to as much as she could as a child and picking up instruments like the piano and violin.
Haruka did not pick up a Trombone until she heard an old recording of the Original Dixieland Jazz Band, a decision that would later lead her to relocate to New Orleans, the birthplace of jazz.
She picked up the trombone at the age of 15 and began studying New Orleans music, particularly "tailgate" slide trombone. She studied music at Waseda University and began working as a full-time musician, but the devastating tsunami and nuclear disaster that struck Japan in 2011 cut off much of the country.
She was itching to perform again after all of her concerts were canceled, and she heard about a group of musicians heading to New Orleans for the French Quarter Festival in April. She quickly became a part of them and fell in love with the city. Haruka moved to New Orleans in 2014 after deciding to make it her permanent home.
Yoshitaka "Z2" Tsuji, her future husband and musical partner, was one of the first people she met. They have a young son named Shouta, who occasionally joins his mother on stage.
Haruka and her horn can be heard with the all-female Shake'EmUp Jazz Band, Grammy-nominated Cha Wa, and, of course, Preservation Hall on any given day in New Orleans. We cannot wait to see her at 726 St. Peter again.
While in New Orleans, she's collaborated with a number of other local musicians to perform at festivals across the country and abroad, including the North Sea Jazz Festival in the UK and the Umbria Jazz Festival in Italy. She has also performed with the Preservation Hall All-Stars and Kermit Ruffins, among many others.
She has won numerous awards, including First Prize in a competition at Tokyo University of the Arts, Second Prize in a Jazz Contest in Asakusa, Tokyo, and Best Of The Beat Awards – Best Traditional Jazz Album. She is a one-of-a-kind genius to behold.
3. Jasper Tan
Jasper Tan, a bass trombonist from Singapore, began playing the trombone in his primary school brass band when he was nine years old. He decided to pursue a musical career after hearing an inspiring performance of the Arutiunian trumpet concerto and enrolled at the Nanyang Academy of Fine Arts, where he began formal musical training under trombonists Damian Patti and Fredi Sonderegger.
He recently graduated with a Bachelor of Music degree with First Class Honours after participating in the NAFA-RCM program. Prof. Henning Wiegräbe and Frank Szathmáry-Filipitsch are his instructors at the State University of Music and Performing Arts Stuttgart, where he is now pursuing a Master of Music degree.
Awe-inspiring performances with the Singapore Symphony Orchestra, the Metropolitan Festival Orchestra (Singapore), the Singapore Lyric Opera, and the Selangor Symphony Orchestra are among Jasper's recent freelance engagements (Malaysia).
He performs with the Stuttgarter Posaunen Consort, the Lion City Brass Band, and the Stuttgart Philharmonic Orchestra. Jasper was also chosen for the Asian Youth Orchestra's 2013 Asian tour and has been a member of the Junge Deutsche Philharmonie since January 2018.
Jasper is equally at ease in front of the camera, having recently won First Prize in the Singapore Low Brass Festival Solo Competition 2016. With the Lion City Brass Band, the NAFA Wind Orchestra, and the Braddell Heights Symphony Orchestra, he has performed as a soloist.
4. Jason Wang
Jason Wang Has a bachelor music degree which he got from Hong kong academy. Maciek Walicki and Mr. Pieter Wyckoff of the Hong Kong Philharmonic Orchestra taught him how to play the bass trombone.
Festival highlights include Hong Kong Odyssey, Datong – Chinese Utopia Tour in London and new chamber opera Matsukaze.
Aside from performing in front of an audience, Jason was given the opportunity to take master classes. To put it simply, he is a world-class trombonist.
5. Motoji Konishi
Motoji Konishi is a Kyoto Symphony Orchestra bass trombone performer. Osaka University of Arts' Music Performance Department is where Konishi began his career as a freelance performer while in school. In 1999, he became a member of the Japan Century Symphony Orchestra after participating in a variety of musical events. In 2002, he joined the Kyoto Symphony Orchestra after working in the orchestra for several years.
Summary
While there are many Asian trombone players who have made a significant impact in the music world, these 5 stand out as some of the most influential and talented.
If you're looking for something new and different to listen to, or if you're a musician looking for inspiration, check out these Asian trombone players! You won't be disappointed.