Here is a list of some black famous trumpet players we think you definitely need to know.
Bobby Bradford
Kermit Ruffins
Terell Stafford
Terence Blanchard
Wynton Marsalis
If you're a trumpet player, there's a good chance you've looked up to one or more of the famous black trumpeters who have blazed trails and made significant contributions to the art form. In this blog post, we'll highlight some of the most notable black trumpet players who have made their mark in history.
Whether you're just starting out or you've been playing for years, these musicians are sure to inspire and challenge you in your Trumpet journey.
We will show you what you need to know about these famous black trumpet players, especially as it is related to their art as professional trumpeters. Also note that this list is not arranged in any other importance, it is rather listed alphabetically.
So without further ado, let's get started!
BOBBY BRADFORD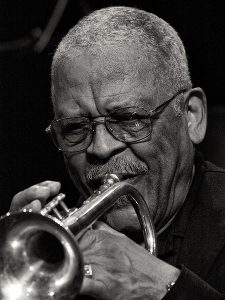 Bobby Bradford was born on July 19, 1934 at Cleveland, Mississipi, of the United States. The eighty-seven year old trumpeter is an American—black America, and plays the jazz genre of music very creatively. He has one of his songs on the iTunes app, the song he did with John Carter—'Self determination music'.
Bobby Bradford is not only a trumpet player, he also is a composer of the jazz music, a leader of a music band, and he plays the cornet as well. He is a skillful player that has played with different musicians, some of these musicians that he has played with are Vinny Golia, Ornette Coleman, John Carter and many other musicians.
Apart from performing with other musicians, Bobby Bradford is also a solo performer. Bradford Bobby received an award of recognition at the Festival of New Trumpet Music, making him the second person to have received the award in 2009.
Bobby Lee Bradford also played in the military bands towards the end of 1954 till the year was almost ending in 1958, however he again became part of Ornette's quartet in 1961 until 1963, while he was with them they played and performed publicly although it was recorded under the his Atlantic contract. Bradford has his own ensemble that is called "The Mo'tet" and he did teach for 44years at the Pomona College.
KERMIT RUFFINS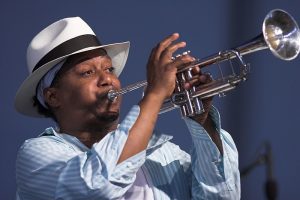 Kermit Ruffin is a multitalented entertainer who started playing the trumpet at the Lawless Junior High School, New Orleans when he was in eight grade. Born in 1964 of December 19 at New Orleans, Louisiana, US, Kermit Ruffin is an actor, a composer, a singer, and he plays the trumpet which is why it is easier to call him a multitalented entertainer. Ruffins Kermit's music was influenced by Jordan Louis and Armstrong Louis. Kermit Ruffins sings while playing, and the highest note Ruffins can hit while playing the trumpet is note C—the high note C.
Kermit Ruffins started playing professionally in 1973 and has played with about three labels; the Basin Street, the Putumayo, and the Justice. He has also been associated with Danny Barker,Michael White, Irvin Mayfield and Rebirth brass band.
Kermit Ruffins recorded his first music with the Rebirth Brass Band around 1984, the group is believed to have been influenced by a band of musicians that were a little older than Kermit Ruffins and his team. The band of old musicians is called "The Dirty Dozen Brass Band". However as Ruffins progressed in his musical career, he founded a quintet in 1992, Barbecue Swingers—a quintet of traditional jazz and is known for cooking on a barbecue during his own shows. Kemi Ruffins has performed at various concerts and over one hundred funerals.
TERELL LAMARK STAFFORD
Lamark Stafford was born at Miami, Florida, USA on 25 November, 1966. He was raised in different cities, he was raised in Silver Spring, Maryland, and in Chicago, Illinois. In 1988 Terell Lamark Stafford got a degree in music from the University of Maryland, it was a degree in music education and by 1993 Terell Stafford earned himself a degree the classical trumpet performance but from the Rutgers University.
Lamark Stafford began his career in 1995, and he started out playing the classical genre of music after his degree in 1993, but over time, he began his study of the jazz music at the University of Maryland jazz band. It was a new turn for his trumpet playing but he associated with Dave Valentin, McCoy Tyner, Stever Turee, John Clayton, and Christian McBride then his ability to play the jazz music improved as he acquired the skills playing with them. Terell Lamark Stafford did several musics, he was the leader in about eleven records, and he has also performed in some ensembles and records as a sideman.
Trell is now a professional Jazz player, he enjoys the jazz genre and he earns a living playing trumpets—the jazz music precisely. Currently, Terell Lamark Stafford is still active on the field and is the Jazz studies director at the Music and Dance Boyer College of the Temple University.
TERENCE OLIVER BLANCHARD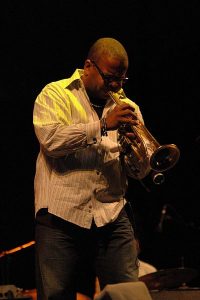 Terence Blanchard is a black American composer who also plays the trumpet. His genre of music is the jazz music and apart from being a composer and playing the trumpet, Terence Oliver Blanchard is an orchestrator, an arranger, and a conductor.
Blanchard Oliver also knows how to play the keyboard and the piano. Terence Oliver has over nineteen (19) songs since he became a professional player of the trumpet in 1982. He has since then made music with Bill Lee, Donald Harrison, Brandford Marsalis, and Art Blakey. Oliver has also played with about three record labels which include the Columbia label, the Sony Classical label, and the Blue Note label. For eleven years (2000-2011) Oliver Blanchard assumed position of artistic director in the Thelonious Monk of Jazz. He also became the director music at the University of Miami.
Oliver was born in 1962, March 13, in New Orleans US and since his music career began in 1982, he has tremendously achieved fame for himself playing the trumpet.
WYNTON MARSALIS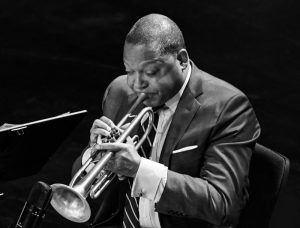 Wynton Marsalis is a black American that plays the trumpet, he is a music director, and also a composer. He started doing music professionally when he was 19 years, and his album has won a lot of awards since his career began.
There are also a couple of other black famous trumpeters whose names will only be listed below. It is important to note that some of them are dead.
Clarry Terry
Donald Byrd
Dizzy Gillespie
Miles Davis
Louis Armstrong
Conclusion
Black Trumpet Players are amazing and should be appreciated. They provide an intricate texture to the orchestra that is unique and beautiful. If you get a chance to see a Black Trumpet player in action, take it! You won't regret it.