Famous trumpet players
The trumpet is a brass instrument that has been around for centuries. The sound of the trumpet can be heard in many contexts, from military bands to jazz ensembles and big band orchestras. This article will cover some of the most influential trumpeters throughout history.
1. Louis Armstrong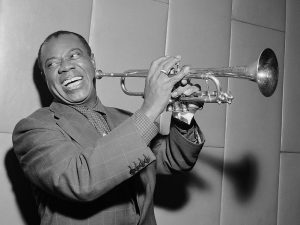 The first on our list of the famous trumpet players is louis Armstrong. Louis Armstrong was one of the most influential figures in music. He played with King Oliver's Creole Jazz Band before forming his own group called The Hot Five and then eventually The Hot Seven when he added more musicians to fill out the sound so they could broadcast over radio.
After playing all over America he moved to Europe where he collaborated with other musicians such as Duke Ellington and Sidney Bechet. He made a lot of records in Europe before he moved back to America where he was a regular on The Ed Sullivan Show and worked with the group All Stars, which included musicians such as Earl Hines, Barney Bigard and Jack Teagarden.
While his playing style has been imitated by countless other players his real claim to fame is his ability to improvise lyrics. Armstrong translated the original French lyrics into English, added rhyming words of his own, and gave us what he called an "American version of a French song." He died on July 6th, 1971 from heart failure.
2. Dizzy Gillespie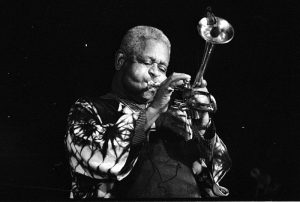 Second on our list of famous trumpet players is Dizzy Gillespie. Dizzy Gillespie was initially a trumpet player in Fletcher Henderson's orchestra before the music industry began to segregate and he moved to Cab Calloway's band. He played with a number of other jazz bands until he formed his own group called the Dizzy Gillespie All-Stars. As a trumpet player Dizzy was known for playing bebop, and is one of the most influential musicians in that genre of music. During the period between 1945 and 1955 he recorded about 60 albums.
After his career as a bandleader he went on to work with big names like Aretha Franklin and, Quincy Jones.
3. Wynton Marsalis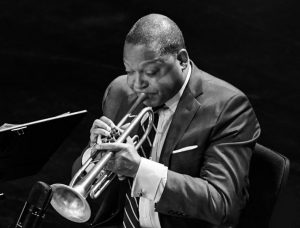 Next on our list of the famous trumpet players is Wynton Marsalis. Like many other jazz musicians Wynton Marsalis started playing the trumpet when he was nine years old after hearing Herbie Hancock play. Marsalis went on to attend Julliard and then form his own group called the Wynton Marsalis Septet. 9 Grammy Awards have been bestowed upon him, making him one of the most well-respected jazz musicians of our time.
4. Leroy Jenkins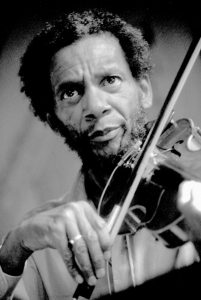 Born August 16th, 1935 in Philadelphia Pennsylvania Leroy Jenkins is a trumpet player, composer and teacher. He was noticed by Dizzy Gillespie in 1958 after he won the trumpet competition at the Newport Jazz Festival. While his playing style is mostly improvisational Jenkins also composes elaborate works for orchestra and jazz ensemble.
5. Fred Wesley

Born March 18th, 1941 in Columbus Georgia, Fred Wesley is a trombonist and trumpeter. He is best known as a member of James Brown's band, and has also played with The JBs, Maceo Parker and Parliament-Funkadelic.
6. Eddie Henderson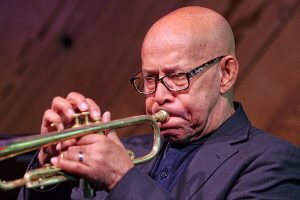 Born March 3rd, 1944 in Philadelphia Eddie Henderson was known for his avant-garde jazz playing style. He started off his musical career by playing the French horn in high school, but he eventually switched to trumpet. While at Howard University he played with a number of groups including the Howard Roberts Fusion. After college Henderson got a job as an instructor at Berklee School of Music where he taught from 1969 to 1972.
7. Joe Newman
Born June 13th, 1918 in Chicago Illinois Joe Newman started playing the trumpet at age 14. He was self-taught until he met Dizzy Gillespie and joined Gillespie's band. In 1946 he formed a band with Nat Pierce called The Kansas City Six where they played together for ten years before going their separate ways (Wikipedia).
Who Made The Trumpet Famous
What Did Louis Armstrong Do Differently Than Previous Trumpet Players
Louis Armstrong was a legendary trumpet player who influenced generations of musicians. He was different than other trumpet players because he brought jazz to a wider audience. He also played with a unique style that was unlike anything that had been heard before.
He was different than other trumpet players because he studied Afro-Cuban music and blended it into bebop. In doing so, he introduced a new style that helped bring bebop to a wider audience.
He also fused together jazz and classical music, which created a whole new sound in the world of trumpet playing. Additionally, he was able to use his fame and influence to promote jazz and other forms of American music throughout the world.
Who Else Helped Make the Trumpet Popular
The trumpet has a long and storied history, and it would be impossible to mention all of the great trumpet players who have ever lived. However, it's also important to note the other people who helped make the trumpet popular.
Many different famous musical groups started playing the trumpet, including Duke Ellington, Glenn Miller and Benny Goodman
Another famous trumpet player is Miles Davis. He was known for his unique style of playing and he helped to popularize the instrument in modern music.
When Did the Trumpet First Become Popular
The trumpet has been around for centuries, and has been found in various forms throughout the world. It is thought to have originated from Egypt, and was brought to Europe by the Moors in the 8th century. The trumpet first became popular in Europe during the Renaissance period, when it was used in bands and orchestras. It later became popular in America during the jazz era, and has since become a staple of classical, jazz, and popular music.
Why Did the Trumpet Become So Popular
The trumpet has been around for centuries, and has been found in many different cultures throughout the world. But what is it about this instrument that has made it so popular? There are a few reasons-here are just a few of them.
First, the trumpet is a very versatile instrument. From classical music to jazz to rock and roll, it can be used in a wide range of styles. The trumpet is also a very expressive instrument, allowing its players to express a wide range of emotions through their playing. Even beginners can begin playing simple melodies on the trumpet in just a few minutes. Because of this, it's an excellent instrument for both new and seasoned musicians.
But the trumpet's popularity doesn't stop there. It's also a great instrument for dance bands-and dance bands were very popular throughout history, as people like to party and listen to live music (and sometimes even enjoy dancing).
What Music Styles Used Trumpets in the Old Days
Trumpets have been found in a wide variety of music styles throughout history. They are often associated with military bands, jazz ensembles and big band orchestras. In the old days, trumpets were used in a variety of music styles, including classical, jazz and popular music.
How Trumpets are Used in Jazz
Traditionally, trumpet players are used to provide melodies. Often times they are paired with trombones for rich harmonies.
On the other hand, trumpets can also be used as a solo instrument. For example, trumpeters like Louis Armstrong and Dizzy Gillespie popularized jazz improvisation. They are often associated with jazz because of their many contributions to the genre's development.