These are the list of black tuba players that are famous in the field of instrumentalists.
Howard Johnson
Kenneth Amis
Richard White
Theon Cross
Velvet Brown
There are not many people in the world who can say they are black tuba players. In fact, there are so few that they can be counted on one hand. But while they may be in a small group, they have a big impact on the music community. As tuba players, they bring a unique sound and perspective to the table that helps create beautiful music.
We will share with you what we think you should know about these black tuba players especially in the light of their career as musicians and tubists. These are not the only black famous tuba players, there are others but we want you to know about these ones listed here in this particular article. Also note that these players are not listed in the order of their musical progress, they are rather listed alphabetically.
HOWARD JOHNSON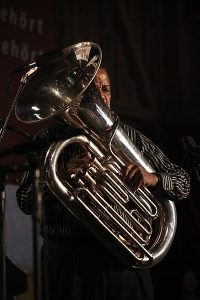 Howard Lewis Johnson was born at Montgomery, Alabama, US on August 7, 1941. He died on January 11, 2021 at New York City, US—he was seventy-nine years old when he died.
Before his death, the American Howard Lewis Johnson was a musician. He plays the baritone saxophone, the trumpet, the bass clarinet, the tuba and some reed instruments, but he is mostly known for playing the tuba and the baritone saxophone, and his genre of music is the jazz music.
The amazing thing about Howard Johnson is that he learnt to play these instruments by himself, he started playing the brass instrument tuba and the baritone saxophone while he was in the high school. By the 1960s, Howard Johnson worked on an album with a couple of musicians that included: Hank Mobley, Charles Mingus, Archie Shepp, Rahsaan Roland Kirk, and Crawford Hank.
The album was called "A slice of the top". He was the one who arranged the section of horn at the background of Taj Mahals live Album in 1971; the album was called "The Real Thing", and the album featured other three tubists and multi-instrumentalists. Earl Mclntyre, Joseph Daley, and Bob Stewart were the musicians featured in the album.
Howard was the leader of three bands he was associated with Gils Evans, he did some collaborations with Tuba Libre, Gravity, Substructure, and Tomasz Stanko. He is also mostly known for his side plays or for being a side man for other musicians and his associates.
KENNETH AMIS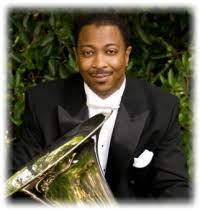 Kenneth Amis was born in 1970 at Bermuda. Kenneth Amis is a professor and an instrumentalist that plays the tuba brass instrument. At the end of study at the Boston University, Kenneth Amis enrolled at the New England Conservatory of Music where he earned his Masters Degree.
Kenneth Amis loved to do music so much that he transcribed the Art of Fugue by Bach for a wind ensemble—Kenneth Amis is the first person to have done such transcription and has since then made history.
Kenneth Amis has performed at a variety of concerts, and he is also mostly known for associating with the Empire Brass where he has also performed in many concerts. He played the tuba in about four orchestra and these orchestras include: the Palm Beach opera orchestra, the New world symphony orchestra, the Tanglewood festival orchestra and the English chamber orchestra.
He was only fifteen when composed his first work, this work is "A suite for bass tuba". Kenneth Amis is given to songwriting for so many groups including various orchestras and a high school band.
Apart from his musical career as an instrumentalist, Kenneth Amis also is a professor of music. He teaches at MIT and is also a part of the music faculty at Longy school. Kenneth is among other things a conservatory in Boston University. He is a part of the faculty at the Lynn University.
RICHARD ANTOINE WHITE
Richard Antonie White was also called R.A.W is known for his art and style of playing the Tuba, as well as for his story before he became a professional instrumentalist. Richard White started learning about tuba when he was just twelve years old, with Goldstein at the Baltimore School for Performing Arts.
He also graduated from the school with honours in music. R.A.W further advanced his studies of music at the Peabody Conservatory of Music where he continued his study in music with Fedderly David who is a Principal Tubist at the Baltimore symphony.
Antoine White earned his first degree from the Peabody Conservatory of Music, and moved on to Indiana University to study with Professor Perantoni Daniel a legendry tubist; there Richard obtained his masters degrees as well as his doctorate degree.
Richard White has performed at so many orchestras and events, including the Spoleto Music Festival U.S.A, Santa Fe Opera, Baltimore Symphony Orchestra, and so many other orchestras.
By 2004, Richard White took was made a Principal Tubist at the New Mexico Symphony Orchestra, until 2011. Richard has had up to five seasons as the Tubist Principal of the New Mexico Philharmonic. Apart from playing professionally, Richard Antoine White (R.A.W) teaches as an associate professor of tuba/euphonium at the University of New Mexico, he is an associate director of the spirit marching band and has stayed active for about two decades.
THEON CROSS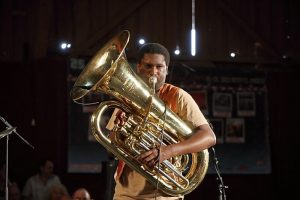 Theon Cross was born in 1993 in London where he started taking lessons in tenor horn when he was eight years old. He graduated from Guidhall School of Music and Drama, and began taking tuba lessons as a teenager. His genre of music is jazz, and he has collaborated with other musicians. Theon Cross released his solo album in 2019 and an EP in 2015.
VELVET BROWN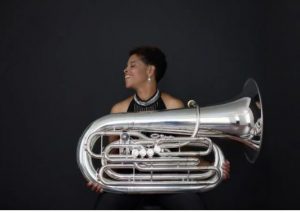 Velvet Brown is tuba player that has about four solo recordings. Her first recording was in 1998, and she also has other recordings with other instrumentalists and musicians. In 2004, Velvet Brown became a part of the "Gravity" tuba jazz ensemble that was founded by Howard Johnson, and she joined in as the lead tuba for the ensemble.
She is a founding member of the Brass and Monarch Brass Quintet Ensemble, she also is a member of the Junction Tuba Quartet, and the Brassworks of Pennsylvania. Velvet Brown loves to teach music (tuba precisely) and is a professor of euphonium as well as tuba.
Conclusion
Black tuba players are a unique and undervalued group of artists who deserve more recognition. If you're looking for something new and different to listen to, or if you're a musician looking for inspiration, check out some black tuba players! You won't be disappointed.