In this article we bring you a list of five female tuba players we think that you should know.
Avital Handler
Carol Jantsch
Constance Weldon
Cristina Cutts Dougherty
Velvet Brown
Female tuba players are often overlooked in the music world. But there are many talented women out there who can hold their own with the best of them. In this blog post, we'll be highlighting some of the best female tuba players out there. So if you're looking for some new talent to check out, look no further than this list!
Here is what you should know about these players.
AVITAL HANDLER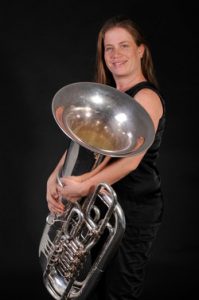 Avital Handler is an Israeli tubist who earned her first degree in music from the Boston University, after which she obtained her Masters degree in music from Manhattan school. The principal tuba player for Israel Symphony Orchestra is Avital Handler and she became Principal tuba in the 2001/2002 season, the Israel Symphony Orchestra is the orchestra of Israel's Opera.
Being an a principal tuba as well as an international tuba player, Avital Handler has played tuba or rather performed this art in different countries like Finland, Italy, Germany, and so many other countries with the opera.
Handler Avital is an active member of the scene of brass chambers in Israel, she was a member of the quintet—Israel Brass Quintet and has been a part of that quintet for about fifteen (15) years. Avital released the first recorded solo music she did in the year 2014. It is called "tuba in the city"—a song that has been well played in Israel and beyond Israel, Avital Handler also did another music with the duo of Israel Tuba and the disc is called, "tubalisious".
Apart from performing in various ensembles, Avital Handler is also a solo performer who has performed solo in various orchestras. She founded the Israel Tuba duo and has since invited great instrumentalists (tuba soloists particularly) to Israel for master classes as well as concerts.
She is also part of the faculty of the Levinsky College of Education as well as the Israel Conservatory of Music, and the Jerusalem Academy of Music and Dance. She has won prizes at various festivals and has been fully recognized nationally as well as internationally.
CAROL JANTSCH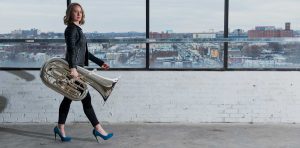 Carol Jantsch was born on March 8, 1985 at Ohio in the US. Her mum was a medical doctor and a music teacher so it was easier for Carol Jantsch to desire doing music. Carol Jantsch was being made ready for a career in music when she started her piano lessons at the age of six years, and when Carol became nine years old, she started learning euphonium.
When Carol Jantsch reached seventh grade in school, she began taking lessons in tuba.  Carol graduted from the Interlochen Arts Academy in 2002.  She furthered her studies in the University of Michigan from where she went for the audition for New York Philharmonic.
She won a place in the audition but finished the competition for New York Philharmonic on the semi-finalist level. Around the same time frame, Carol Jantsch also auditioned for the Philadelphia orchestra. She also won a place during the audition and this time Carol Jantsch finished first by winning the principal tuba at the Philadelphia Orchestra.
By 2006, the same year she had auditioned for the New York Philharmonic and the Philadelphia orchestra, Carol Jantsch graduated from the University of Michigan, and she made history in the same year by being the first female to win the Philadelphia Orchestra in the US. Carol Jantsch also became the principal tuba. By 2006 and 2007, Carol Jantsch was the chair for the season's concert and she did that job full time for the season despite being youngest Philadelphia Orchestra member.
Carol Jantsch also won a scholarship during her studies, and after her studies she started teaching, she taught at the Yale school of Music and is now a professor of music as well. Apart from winning principal tuba and being the first woman to win the Philadelphia orchestra in the US, Carol Jantsch has also won various awards as she plays the tuba.
CONSTANCE WELDON
Constance Weldon was born on 25 January, 1932 at Winter Haven of Florida and she died on August 7, 2020. Constance Weldon liked to play the tuba as a high school student, so by the time she graduated from high school at the Miami Jackson High School, Weldom had chosen the University of Miami for her first degree as she decided to specialize in the playing of Tuba.
It is necessary to state that Constance Weldon's desire to play the Tuba was aroused when her father first handed her a tuba, so all through high school and the university, her desire for tuba was orchestrated by the tuba her father bought her.
Weldon auditioned for the Tanglewood Music Festival in 1951, and that marked the start of her career as a tuber player professionally. She performed there during the summer so much that she got an offer of Rio de Janeiro Symphony Orchestra—an offer she did not accept because she wanted to complete her Bachelor Degree's first, and by 1953 she had earned her BA and began her Masters education.
After that, Weldon performed at different events, and with different people as well, she even picked a job at the Ballet Orchestra of Netherlands and became a member of the Philharmonic at Kansas City when she got back to America.
Constance Weldon became a tuba professor at the University of Miami in 1960, there she founded the tuba ensemble as well as directed the ensemble.  Weldon Constance taught and directed musical affairs as well as undergraduate studies in the university; she taught there until she retired.
CRISTINA CUTTS DOUGHERTY
Cristina Cutts is an amazing tubists who has within a short period of active performance earned herself a lot of awards, starting from the Interlochen Academy as a finalist in a concerto competition. She earned her Bachelor degree in Tuba performance from Colburn School.
During the 2019 summer, Cristina was a member of 'Full House Brass Quintet' at the music from angel fire in New Mexico. She also had a lot of public performances there. She has being a guest tube player at Los Angeles Philharmonic, as well as with 'New world symphony'. She is the Principal tuba of Symphony in C Camden. By 2021 she became a fellow with Keston Max London Symphony.
VELVET BROWN
Velvet Brown is a tubist who released her first tuba solo record in 1998.  Velvet joined the tuba jazz called "Gravity" in 2004; Howard founded the ensemble and Brown was the lead tuba for the ensemble. She belongs to many other ensembles and is the professor of tuba and euphonium.
Conclusion
So, there you have it. Our list of the 5 best female tuba players in the world. These women are not only amazing musicians but also powerful role models for young girls who want to pursue a career in music. We hope that you enjoyed reading this article and that it has inspired you to check out some of these incredible performers for yourself. Who is your favorite female tuba player? Let us know in the comments below!