Best Musicians From Alabama
Some of the greatest musicians in history have come from Alabama, which has a long history of producing musical talent. Alabama has produced an incredible list of musical talent, ranging from legendary blues singers and jazz greats to modern country and hip-hop stars. Here we shine a spotlight on some of the best and most influential musicians from Alabama.
10 Top And Famous Musicians From Alabama
1. Jamey Johnson
First on our list of the best musicians from Alabama is Jamey Johnson is one of the most respected and beloved country music artists across the United States.
Fans have been moved by his compelling lyrics and sultry voice for decades. He has produced a timeless, genre-defying song collection.
Johnson is renowned for his soulful, evocative lyrics and strong vocals. He has written timeless classics like "In Color," "High Cost of Loving You," and "Give It Up or Let Me Go" thanks to his moving songwriting.
His songs cover a wide range of feelings, from joy to sorrow. He discusses topics like love, faith, addiction, and mortality openly. His ballads have a way of moving his audience and connecting to their personal experiences.
His lyrics have become part of the American fabric, with songs like "In Color" and "High Cost of Living You" making regular appearances in movies, TV shows, and commercials.
Johnson also possesses a remarkable range, being able to change from a mellower, bluesier sound to his more conventional honky-tonk style.
He is renowned for his work with legends like George Jones, Willie Nelson, Loretta Lynn, and Dolly Parton. Contemporary country music stars like Brad Paisley, Jason Aldean, and Miranda Lambert have praised his work.
Due to his talent for capturing the feelings of daily life, his songs are able to cross generations.
2. Big Mama Thornton
Big Mama Thornton Hound Dog
Next on our list of musicians from alabama is one of the earliest influential blues artists, Big Mama Thornton's influence can still be seen in many genres today, including rock, soul and funk.
She became a legendary performer during the era thanks to her dynamic stage presence and passionate delivery, and her recordings continue to carry on her legacy.
Her passionate stage presence and strong voice quickly earned her the moniker "Big Mama," and in 1952, her song "Hound Dog" became a hit.
The song quickly rose to fame and established itself as a standard of the developing rock and roll subgenre. Big Mama Thornton's career was boosted by this achievement, which also solidified her place among the most important blues singers of her era.
Big Mama Thornton was a trailblazer in fusing blues and soul, developing a distinctive sound that has since permeated popular music. Her songs have been covered by some of the most influential artists of our time, such as Elvis Presley, Janis Joplin, Ike & Tina Turner and Aretha Franklin, to name a few.
Not only did her music influence generations of singers and musicians, but she also became a role model for female blues singers.
In the 1950s and 1960s, the blues was mostly a male-dominated genre, but Big Mama Thornton changed all that with her powerful performances. She paved the way for other female blues singers, demonstrating their strength and impact on the industry.
Big Mama Thornton's power and talent are demonstrated by her life and music. She paved the way for female blues singers, and her impact is still audible in contemporary music.
All who listen find inspiration in her strong voice and passionate musical style. Through her work, Big Mama Thornton left behind a rich and vibrant legacy that continues to inspire and influence musicians and music lovers of all genres across the globe.
3. Lionel Richie
Beyond the popularity of these and countless other songs, however, Lionel Richie is also known for his likable demeanor and approachability.
When Richie teamed up with the funk and soul band The Commodores in 1968, his ascent to fame officially began. After initially joining as a keyboardist and backup singer, the band quickly promoted Lionel to lead vocals after realizing his incredible talent.
This The Commodores rose to fame thanks to the hit songs he co-wrote and wrote, including "Easy," "Three Times a Lady," and "Brick House." In 1982, Lionel Richie parted ways with The Commodores and began to concentrate on his solo career.
The 1982 release of Lionel Richie, his first solo album, featured the well-known ballads "Truly" and "You Are."
Despite being a global superstar, Lionel Richie has always been deeply committed to philanthropy and helping others. He established the Lionel Richie Foundation to support young artists, and his "Hello From Home" organization helps military families.
Through the years, Lionel Richie has gained a tremendous amount of respect and admiration from his fans all over the world thanks to his music and philanthropy. His legacy will endure because it exemplifies the beauty and healing abilities of music.
4. Clarence Carter
Since the middle of the 1960s, American recording artist Clarence Carter has been performing and making music. He has a distinguished and lengthy career that spans five decades, and many of his songs are autobiographical.
He has created a number of well-known hits over the years, including "Patches" and "Slip Away," which have brought him both critical acclaim and financial success.
Along with Tammy Wynette and Otis Redding, he has written and recorded a ton of duets. Carter is renowned for his distinctive style, which combines soul, blues, and R&B to create something wholly original.
In addition to his music career, he owns a successful recording studio and has written and produced music for other artists.
Carter's career is proof of his perseverance and commitment to creating excellent music. He serves as a model for aspiring soul musicians everywhere and serves as a reminder that anything is achievable with passion and tenacity.
5. Wilson Pickett
You've probably heard of Wilson Pickett, a legendary singer arguably one of the best musicians from alabama. His passionate vocal style has cemented his place in music history as one of the best. He is a legitimate icon of the genre thanks to his contributions to the music industry.
Born in 1941 in Alabama, Pickett started singing when he was just seven. At the age of eighteen, he relocated to Detroit and was already well-liked in the clubs. Pickett's first single, "I Found a Love," was released in 1962, and by 1965, he had found mainstream success with "In the Midnight Hour."
But Pickett's success came with a price. His personal life was turbulent and frequently violent, and he had a long history of drug and alcohol use. Despite his difficulties, Pickett kept on recording music up until just before his passing in 2006.
Wilson Pickett is unquestionably a soul legend, and future generations of musicians will be influenced by his vocal performances.
6. Eddie Floyd
Since the beginning of his career in the late 1950s, Eddie Floyd has been a mainstay of soul music. Fans of classic soul music love him for his distinctive fusion of R&B, gospel, funk, and blues-infused music.
The Memphis-born singer-songwriter enjoyed success with songs like "Knock on Wood," "Raise Your Hand," and "Big Bird" in the 1960s and 1970s.
Eddie Floyd's music has an instantly recognizable sound because it was created during the same era that Memphis and Muscle Shoals musicians were developing and perfecting soul music.
A distinctively American sound with a strong energy was produced by fusing gospel with blues and a dash of funk. You can hear Eddie Floyd's love for the music when you listen to it. He puts everything into his music, which is why listeners are still moved by it today.
The songwriting of Eddie Floyd is exceptional as well. He created songs that told stories and expressed intense emotion rather than just being danceable.
His songs were frequently honest, straightforward reflections on life that anyone could relate to. His lyrics added to the appeal because they were also intelligent and humorous.
Floyd is an underappreciated soul music icon who merits praise. His distinctive sound and songwriting approach came together to produce something truly exceptional.
A new generation of fans has rediscovered and embraced his music as technology has developed. So if you enjoy soul music, now is the time to check out Eddie Floyd. You won't be let down.
7. Dinah Washington
Dinah Washington: What Difference A Day Makes
When it comes to jazz music, Dinah Washington one of the very few female musicians from alabama; undoubtedly a pioneer. She was born in Tuscaloosa, Alabama, in 1924, and rose to fame for her soulful interpretations of jazz standards and for her powerful voice.
In addition to her singing career, Dinah was also an accomplished pianist and songwriter, composing a number of popular songs.
Despite the fact that she passed away in December 1963, jazz fans all over the world will never stop appreciating and admiring her timeless recordings.
Thanks to her unique style and powerful voice, Dinah Washington remains one of the most beloved singers ever to grace the stage.
8. Nat King Cole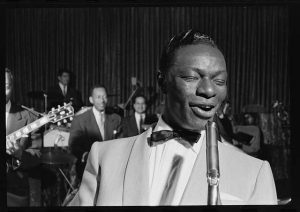 The legendary Nat King Cole was a multi-talented individual. He was a fantastic pianist, singer, and songwriter. He became well-known in the 1940s thanks to his jazz-influenced sound and supple baritone voice.
He released some of the most well-known songs of the time, including "Nature Boy," "Mona Lisa," and "Unforgettable." Everyone admired him for his calm demeanor and preppy appearance, which gave him an air of refined elegance.
Nat King Cole was born in Montgomery, Alabama in 1919, not far from the Alabama city of Selma where civil rights activists marched in 1965. Due to segregation, he frequently performed in places where only African Americans were allowed to perform and attend events.
He produced more than 50 albums over the course of his four-decade career, winning a total of four Grammy Awards. Thanks to the timeless and exquisite music he produced, listeners today are still inspired by his life and music.
His legacy lives on in the hearts of those who experienced his music, and those who were lucky enough to see him perform live.
9. Sun Ra
The renowned jazz musician Sun Ra created some of the most recognizable and significant music ever. His avant-garde compositions pushed the boundaries of jazz and had an impact on several musical generations.
Internationally and across generations, Sun Ra had a significant impact. His eccentricity and creative spirit live on in memory. The cosmological philosophy that Sun Ra's music embodied emphasized freedom, creativity, and exploration.
Sun Ra's unique vision of musical expression combined a spirit of freedom with a deep love for music. He embraced jazz as a means of exploring the infinite creative possibilities, fusing elements from both conventional and avant-garde sources.
Sun Ra's avant-garde approach to jazz pushed boundaries and questioned norms, enabling him to create a completely unique sound.
Sun Ra frequently wrote expansive, imaginative compositions. He was influenced by many different genres and styles, such as free jazz, fusion, and bebop.
His compositions combined elements from these genres to produce a distinctive sound that was both sophisticated and widely appealing.
Sun Ra's music was the ideal fusion of the old and the new because it included elements of improvisation, experimentation, and conventional jazz techniques. Generations of musicians looked to Sun Ra for inspiration, which led to the influence of his music.
The cosmic outlook of Sun Ra was yet another important aspect of his influence. He believed that music had the ability to unite people, promote understanding, and open up the unknown.
This philosophy was reflected in his music, which he also used to explore the metaphysical, the inner worlds, and space. Ethereal, cosmic, and mystical are terms frequently used to describe Sun Ra's music.
Today's jazz scene is still feeling the effects of Sun Ra's legacy. His cosmic philosophy has influenced jazz culture while his music continues to inspire musicians.
Generations of musicians who want to push boundaries and discover new sounds have turned to Sun Ra's inventive compositional style as their model. In the world of jazz, he has made an enduring impression that will be felt for years to come.
In conclusion, Sun Ra's innovative musical contributions have shaped and altered the jazz landscape. His avant-garde compositions fused traditional and experimental elements, and his cosmic outlook on music inspired a generation of musicians.
Today, Sun Ra's legacy continues to inspire and influence jazz musicians as they strive to explore and expand the possibilities of musical expression.
10. Emmylou Harris
Last on our list of musicians from alabama is Emmylou Harris, she has long been regarded as one of the genre's leading voices, from her early success as a participant in the folk-rock scene to her later embrace of country music.
Throughout her career, both critics and fans have praised and celebrated her signature sound, which combines a gentle twang with sultry harmonies.
Harris has produced a significant body of work over the course of her three decades as a solo artist, including dozens of albums, singles, and collaborations.
Emmylou Harris is regarded by many as a living legend, particularly for her contributions to the country and folk music genres. She is one of the most celebrated female country artists working today, receiving high praise from critics.
Also, Harris has expanded the horizons of what is possible in country music. She was a pioneer of "alt-country" and "Americana," fusing the two genres to produce an original sound that defies expectations.
Harris has consistently demonstrated her willingness to take chances and venture into uncharted territory with her fingerpicked guitar playing and soulful singing.
Harris still creates stunning, enduring songs that cross genre boundaries. 2011 saw the release of her most recent album, "Hard Bargain," as well as successful tours across the United States and Europe.
Her shows are a must-see for any fan of contemporary music because of the heartfelt and captivating nature of her performances.
Emmylou Harris is a legendary artist who is also a committed philanthropist who has used her fame to support various charities and raise funds for them. She most notably joined forces with REVERB, an organization committed to sustainable living, in 2008, and has since been involved with a number of causes including poverty relief and disaster relief.
In the music industry and elsewhere, Emmylou Harris is a shining example of excellence. She is an icon because of her commitment to her craft, her willingness to take chances, and her dedication to philanthropy. One of the greatest musicians of all time, Emmylou Harris will live on in the memory of all time.