The vibraphone is a unique-sounding instrument that has been around for decades. Despite its popularity, there are not many famous vibraphone players out there. In this blog post, we will take a look at some of the most well-known vibraphonists in history. We will also discuss their contribution to the vibraphone community and how they have helped to shape this unique instrument into what it is today. So without further ado, let's get started!
1. Joel Ross
Ranking on our list of the famous vibraphone players is Joel Ross, an American vibraphonist, was born in Chicago Illinois, to Joel and Josh Ross, a drummer. When Joel's twin brother was given the drum chair in the school band, Joel decided to convert to Vibraphone.
Herbie Hancock discovered him at Chicago High School for the Arts after hearing him perform with the All-City Jazz Band when he was just a youngster.
He was accepted into the Brubeck Jazz Quintet Institute at the University of the Pacific at the behest of Hancock. His debut album, Kingmaker, debuted in the top ten Billboard charts two years later, in 2018.
2. Gary McFarland
Next on our list of the famous vibraphone players is Gary McFarland is a composer who specializes in blending jazz vibraphone tunes into symphonic works. He was born in Los Angeles, California.
As a member of the West Coast cool jazz scene, he collaborated with a number of notable jazz figures such as Stan Getz, Bill Evans, and Jerry Mulligan.
The majority of his work are in cinema and theatrical scores, but he did play some straight jazz.
Unfortunately, he died of a methadone overdose on the day he finished work on the Broadway musical To Live Another Summer, To Pass Another Winter in 1971.
He was also one of the first to employ the electronic vibraphone, sometimes known as a synth-vibe. Throughout his seven-decade career, Mainieri has straddled the lines between jazz, rock, and classical music.
3. Terry Gibbs
Born in Brooklyn, New York, Terry Gibbs was so talented that he began touring at the tender age of 12. Downbeat Magazine named him the top vibes musician from 1950 to 1956 when he joined Woody Herman's Herd in 1948.
In 1957, he relocated to Los Angeles and formed the Dream Band, which featured Artie Shaw and Bill Holman, two of the most renowned big band conductors.
It was this band that made Gibbs a household name in the world of jazz. While much of the jazz world shifted to smaller ensembles and bebop, avant-garde, and fusion jazz, Gibbs stayed committed to the large band sound.
4. Sasha Berliner
New York-based female vibes player Sasha Berliner, who was born in 1998 in San Francisco, has won Letter One's "Rising Stars" jazz award for her work.
In 2019, her debut album, "Azalea," was widely praised and put her on the jazz music radar. Quincy Davis, Nicholas Payton, and Tyshawn Sorey are among the artists she has collaborated with.
Downbeat's "rising star" voting has recognized her as both the youngest and first female to get the honor.
5. Lionel Hampton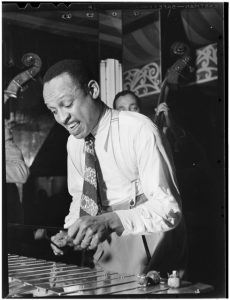 The drummer was requested to play vibraphones by Louis Armstrong during a recording session in 1930. That's when he agreed and began his trip with the vibes.
When Benny Goodman watched him perform at the Paradise Club in Los Angeles in 1936, he requested him to join his quartet, and from then his career truly took off.
Hampton's sidemen included Charles Mingus, Charlie Parker, Wes Montgomery, and countless other superstars. Hamp's Boogie Woogie and "Flying Home" are two of his most renowned tracks.
6. Bobby Hutcherson
Bobby Hutcherson was born in 1941 in Los Angeles, California, and began his musical training at a young age by studying the piano under his mother's guidance. Early on, he became known for his four-mallet playing style, which he developed at the tender age of 12 after being introduced to the vibraphones.
In 1961, he recorded his first album at Birdland and became a sought-after sideman for blue note and other jazz labels throughout the following years.
This is when he began to create a name for himself as a bandleader and leading hard bop jazz composer, recording "Little B's Poem," which would go on to become one of his most famous compositions.
Throughout the next six decades, Hutcherson continued to record and perform live until just before his death in 2016.
7. Stefon Harris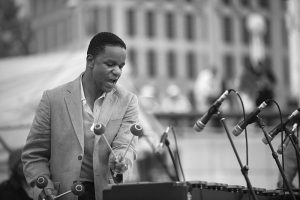 Stefon Harris was born in Albany, New York. After hearing jazz saxophonist Charlie Parker's music, Harris, a classically educated musician, became enamored with jazz and began his jazz career in 1995 alongside Tim Warfield.
In his original pieces, Harris is noted for his clean approach and ear for classical music.
After joining the Classical Jazz Quartet in 2001, he has reimagined classical pieces using the jazz arrangements.
His collaborations with modern jazz greats like Diana Krall and Steve Turre have put him in the company of today's most influential musicians.
8. Gary Burton
Gary Burton was born in the town of Anderson, Indiana, in the year 1943. He was recognized for inventing a unique technique for playing the vibraphone known as the "Burton grip" or the "four-mallet method."
When he was just 17, he made his recording studio debut with Chet Atkins before going on to study music at Berklee. His career took off when he joined Stan Getz's jazz ensemble in 1964, and he never finished his schooling.
It was in 1967 that he formed the first jazz-fusion band, which incorporated elements of jazz and rock music. In 1972, he became the youngest musician ever to win Downbeat's "Musician of the Year" award and received his first Grammy Award. "Prelude for Vibes" is one of his most well-known songs.
9. Roy Ayers
Roy Ayers, one of the finest vibraphonists of all time, was raised in a musically rich environment in Los Angeles, California, where he was born in 1940 and raised.
By the time he was five, Ayers was already a talented musician, playing the piano and learning to play other instruments.
When his parents took him to meet Lionel Hampton, he was so taken aback by the legend that Hampton took notice of him and handed him one of his vibes mallets.
Ayers began playing Vibraphones at the age of 17 after mastering numerous other instruments, and by the early '60s, he was an award-winning vibraphonist.
Roy Ayers, dubbed the "Godfather of Neo-Soul," has been thrilling audiences for more than half a century.
"Lifeline" and "Everybody Loves the Sunshine" are two of his most popular tunes.
10. Mulatu Astatke
Ethiopian-born Mulatu Aststke traveled to the UK in the late 1950s before returning to the United States to attend Berklee College of Music.
He began studying Latin jazz at Berklee and made his first Afro-Latin jazz records in 1966.
Ethio-jazz, a kind of afro-centric jazz that he helped pioneer, is known as Astatke's "Yekermo Sew," and a notable example of this is his 1972 tune.
It wasn't until the early 1990s that he became a household name in the United States.
11. Red Norvo
He was one of the earliest pioneers of the vibraphone in jazz, having been born in Beardstown, Illinois. Benny Goodman and Woody Herman were among the musicians he worked with in the early stages of his career.
"Knockin' on Wood" and "Please Be Kind" helped him establish himself early on.
Red Norvo worked with a slew of legendary musicians throughout the course of a 60-year career, among them Frank Sinatra, Charlie Parker, and Dizzy Gillespie. He was well-known as a vibraphone and marimba virtuoso.
He died on April 6, 1999, at the age of 91, after a long and distinguished life in the music industry.
12. Dave Pike
Detroit-born Dave Pike learned to play the vibraphone by listening to Lionel Hampton and Milt Jackson records when he was a child. After his family relocated to Los Angeles in 1953, he began playing professionally at the age of 15.
Before coming to New York City in 1961, he worked with Harold Land and Dexter Gordon as a sideman before adding marimba to his repertoire.
From there, he joined Herbie Mann's band and began playing vibraphones amplified for the first time. He experimented with a wide range of styles, from bebop to calypso to psychedelia music, during his career.
77-year-old Dave Pike passed away in 2015.
13. Milt Jackson
A native of Detroit, Michigan, Milt Jackson began his professional career as a trumpeter at the age of 16 before joining the ensemble of legendary jazz trumpeter Dizzy Gillespie in 1945.
Jackson was a key member in the new jazz movement of the 1950s, known for his improvisational prowess.
His most well-known work was as a co-founder of the renowned Modern Jazz Quartet, which was responsible for a number of successes, including "Django."
Thelonius Monk and Miles Davis were among the many jazz greats who collaborated with him on some of the most memorable recordings ever recorded, in addition to his work with MJQ. Milt Jackson, 76, passed away from liver cancer in 1999.
14. Cal Tjader
Cal Tjader, born in 1925 in St Louis, Missouri. He went to music school in the Bay Area and began working with jazz pianist Dave Brubeck as a drummer in 1949, when he was just 18.
However, in 1953 he began to experiment with the vibraphone and Latin Jazz, focusing on the mambo trend of the era. "Soul Sauce" was a jazz smash for him in 1965.
Tjader is well-known for being one of the few non-Latinos to lead a Latin band, and he was noted for his ability to bridge the gap between traditional jazz and the Latin beat throughout his career. At the age of 56, he died in Manilla, Philippines, on May 5, 1982.
15. Mike Mainieri
Lastly, on our list of the famous vibraphone players is Mike Mainieri, a New York City native and jazz trio member, began touring at the age of 14 after becoming a child prodigy.
When he was 17, he joined Buddy Rich's band and took over a lot of the arranging responsibilities. This is also when he was performing alongside Billie Holiday, Wes Montgomery, and Dizzy Gillespie's bands.
While playing with Frank Zappa and Jimi Hendrix, he pioneered the synthesis of jazz and rock music, founding avant-garde rock-jazz orchestra White Elephant.
Final thoughts of the Most famous Vibraphone Players of All Time
While this is not an exhaustive list, it provides a snapshot of some of the most famous vibraphone players and their unique contributions to the instrument. We hope you've enjoyed learning about these amazing musicians and their music. Who is your favorite vibraphone player? Let us know in the comments below.